Power and Simplicity: iObservation and Essentials for Achieving Rigor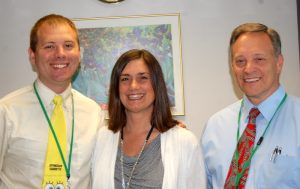 Originally published in CenterEd in June 2014.
Having taken part in a pilot of iObservation, LSI's observation and professional development software, and instructed the faculty to study elements of the Marzano Teacher Evaluation Model, Bonny Eagle Middle School, the largest middle school in the state of Maine, was ready to take a deeper dive in year two.
In April, principal Mick Roy, along with assistant principals Stacey Schatzabel and Benjamin Harris, viewed a demo of Marzano Center Essentials for Achieving Rigor, a model of instruction designed to move students toward cognitively complex thinking skills. Roy says that he likes how it "takes away from the teacher, or us as administrators, sort of reorganizing a pathway to learning."
"Because if you think about it," he explains, "with this new Essentials model, we can have [students] walk down a pathway of learning that we know is designed for rigor—and I think it's more comprehensive in some ways, but it's also more focused. It ties teaching practices in with the standards . . . so next year, not only will our teachers be working on the what (the essential learning around the standards), but they'll also be working on the how (how they're going to incorporate these proven practices into the teaching of those standards)."
The Student-Centered Classroom
The Essentials model is designed to help educators gradually release responsibility for the learning to students, giving them more autonomy and ownership of the work. With a brief exposure to the new student-centered pedagogy, some Bonny Eagle students may not be entirely ready just yet, but many are—and they're all moving toward it.
The district conducts summer "symposium workshops" for teachers who have received professional development around the student-centered classroom, says Roy. "They started to build the capacity for giving students more ownership and having a better understanding of why that's important. At the same time, we've incorporated The Art and Science of Teaching. We're having students track their own progress and take more ownership. In practice, that work has begun."
A Common Learning Experience
Implementation is "one of the most important pieces," states Roy. "By focusing on specific times that we required the teachers to work on this, it helps to make sure they understood the importance of using the framework and getting to use this tool, because we still have a long way to go."
The school has made it through the first year, and now Roy, Schatzabel, and Harris are helping other schools implement the Marzano model with fidelity. "We've been processing our use of it," Roy explains, and they're about ready to embark on sharing their experiences with other districts that will soon be rolling out the model.
Roy further states, "What we hope to do is to collaborate and share the workshops and the training that we get from Learning Sciences. So, we host, for example, the essential learning piece and invite other districts. These are the people we've already been in communication with, who also want to collaborate and cross-share with other schools, teachers, and administrators."
"This will be one of the—in my time in education—one of the biggest things that can bring people together for a common learning experience."
Bonny Eagle Middle School students are already becoming more autonomous. In turn, faculty members are beginning to see the power and "profound simplicity," as Harris eloquently calls it, of using instructional strategies highlighted in iObservation.
The Power and Simplicity of iObservation
As the school's faculty members familiarized themselves with the platform, administrators went into each classroom to observe and provide feedback—without scoring or rating the teachers—just to demonstrate how it works. One day, Roy walked into a sixth-grade English language arts classroom…
"I had my laptop open, I had iObservation open, and I was just trying to determine which elements I could give [the teacher] feedback on. One of the things I noticed after about five minutes was that as he had students preview new content, he was also trying to get them to infer from the passages they were reading and rely on prior knowledge. He was really trying to teach inference."
While sitting in that classroom, Roy looked in iObservation and found a video that was specific to teaching inference. "So, while I was in the classroom, I was giving him feedback. I sent him that video and I walked out 10 minutes later. I was only in there 10 minutes."
Five minutes later, back in his office, Roy received an email from the teacher, thanking him for coming into the classroom. The teacher had watched the video, pulled out a strategy from it, and used that strategy in his very next class. "So that just shows you the power and the simplicity of it," says Roy.
"Profound simplicity," concludes assistant principal Benjamin Harris.
What's in Store for Next Year?
"We expect continued growth," says Roy. "We're trying to synthesize a lot of pieces to change. And by adopting and implementing The Art and Science of Teaching as our framework, we are taking that, along with iObservation, to build a culture of growth."
Bonny Eagle is also going to continue using iObservation and The Art and Science of Teaching." So when we roll this out next year, there really are two additional components," explains Roy. "There's the teacher growth and development around The Art and Science of Teaching and having a pathway of learning. With the rigor model, we want to look for a way to make this a lot more seamless and easier to follow. At the same time, administrators will go to additional training with inter-rater reliability courses or workshops."
On day one of the next school year, Bonny Eagle intends to have all its teachers hitting the ground running. The school closed this year's iObservation on June 6 and opened it up for next year three days later. Teachers are already able to do their self-assessment and establish goals for next year, so when school starts back up in late August, they'll be "ready to roll."
Roy adds, "That's a big change."