Marzano-Inspired PD Sessions Incorporate Escape Room and Mystery Themes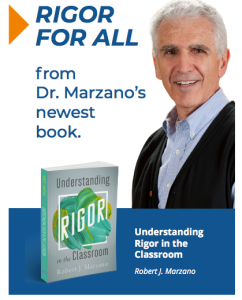 West Palm Beach, FL—June 3, 2019—Just in time for the upcoming school year, Learning Sciences International is rolling out two uniquely themed half-day professional development sessions to accompany the release of Dr. Robert J. Marzano's book, Understanding Rigor in the Classroom. The sessions are designed to engage teachers, mentors, coaches, administrators, central office instructional support, and curriculum personnel in team building as they develop expertise on delivering truly rigorous instruction.
"Rigor in the classroom doesn't have to be elusive, tedious, or boring," said Learning Sciences International Practice Leader Melissa Bloom, Ed.D. "Teachers will leave these sessions with fresh ideas and tried-and-true strategies they can implement immediately in the classroom."
Escape to Rigor: Cognitive Analysis Skills and Habits of Mind is a high-paced, hands-on escape room themed session in which participants analyze errors, classify, support claims, compare, and elaborate to complete tasks and "escape the low-rigor lesson."
Solve the Puzzle of Rigor: Engaging Students in Knowledge Application Tasks challenges participants to increase classroom rigor from initial learning to deepening understanding. Participants solve problems, make decisions, investigate, experiment, invent, and analyze systems to piece together the mystery of rigor in the classroom.
Attendees at Building Expertise in Lake Buena Vista, Florida, will get a preview of these sessions, which will be rolled out nationwide in the fall. Anyone interested in bringing Rigor for All training to a school or district should visit the Marzano Center website.
About Learning Sciences International
Learning Sciences International (LSI) believes the future of K-12 education is big and bright. When teachers, the backbone of our society, receive the support, coaching, and professional development they need, that's when the magic really happens in our classrooms: students become empowered to learn deeply, strive ardently, and lead successful, fulfilling productive lives. Everything we do at LSI is grounded in these convictions and inspired by the transformative work we see in classrooms, schools, and districts throughout the country every single day. Our number one goal is to foster meaningful professional growth in the people who are impacting and developing tomorrow's leaders today.
Visit LearningSciences.com for more information.