How the "6 Pictures" Activity Ramps Up Student Engagement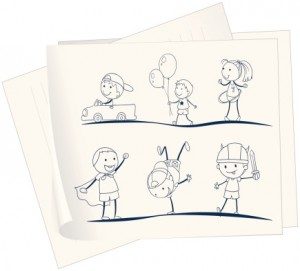 The relationships you build with students will impact their performance. The six pictures activity can help you get to know them while increasing student engagement and enhancing your instruction. This versatile strategy helps students:
Consider multiple aspects of the content
Organize and remember information
Distinguish key information from supporting details
Provide support for an answer
Deepen their understanding of content
Demonstrate organized planning
As you select instructional strategies based on desired outcomes and intentional use, you're sure to find that there's no "one best way" to approach instruction. A specific strategy may not always be connected to a particular element, but this versatile technique is useful for multiple applications.
Let Students Do What They Love Best: Talk About Themselves!
Instruct them to:
Fold their papers in half vertically and then in thirds horizontally to create six boxes.
Identify six key events or experiences that have impacted their lives. (Inform them that they will be sharing their responses with the class.)
Draw pictures and/or write phrases about these key events or experiences, recording one per box.
Share their responses in a small group or with the entire class.
This is a great way to establish a sense of community and level the playing field for struggling learners. Not only are you developing positive relationships and building students' enthusiasm for content, but you're also gaining valuable information that you can use for intentional planning.
Analyzing Text
English language arts teachers can use the six pictures activity to explore literary works. Put students in small groups or in pairs, or have them work individually, and ask them to use the six-picture framework to process, elaborate on, and review information. This strategy is both flexible and adaptable. You can give younger learners choices between pictures or phrases, or ask struggling students to come up with headings for the boxes before they start citing evidence from the text.
They can examine similarities and differences as well. Have them:
Use the top of the paper for information about specific text and the bottom for generating descriptions of how these key events or traits relate to their lives.
Use the bottom to make comparisons between additional texts, such as poetry or works of different genres (this skill is required by college and career readiness standards).
Compare two outcomes, characters, or approaches to a problem described in the text.
If you're teaching a social studies class about why the United States and Russia are considered "superpowers," students might use the six-picture format to compare leaders, government systems, or events.
Identifying and Processing
With six pictures, students can identify the critical content in the lesson and record it in the boxes. Sorting and identifying main ideas and listing supporting details helps them work through all of the verbiage and helps you connect the work to the learning goals for the unit or chapter. If you're introducing new information, break the content into appropriate chunks, allowing students to complete a box or two at key intervals as they process the information.
Once everyone becomes accustomed to the six-picture format, you'll really be able to perfect your use of this strategy, but plan carefully ahead of time, determining how you will:
Incorporate it into intentional planning to reach desired outcomes
Group students for the activity
Differentiate or mediate scaffolding for struggling students