How Can Flipped Classrooms Increase Learning?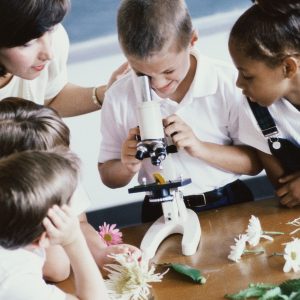 You know the drill: identify critical content, deliver it to students, and then give them homework to deepen their knowledge of the new material.
This works, but do you ever get the urge to shake things up a little? Would your students benefit from a change to the usual routine that gives them more control over their learning? Try incorporating the "flipped classroom" approach into your instruction.
What You Do
Simply put, with flipped learning, the teacher deliberately plans to introduce new information as homework, rather than teach it in class. This instructional approach, which empowers students to initially introduce the material to themselves in a non-classroom location – often in the comfort of their homes – can potentially save more of the meaty instructional time for the classroom.
It doesn't have to be a reading assignment. You can have students watch a video (even a video of you – or an avatar talking for you), view an engaging PowerPoint presentation, or listen to audio.
The Benefits
According to Dave Saltman, author of Flipping For Beginners, a Michigan high school has seen a 10-percent increase in student proficiency after using the flipped classroom approach for two years. This strategy may help improve student engagement, classroom monitoring, and collaboration, making everyone more excited about (and invested in) the learning process.
Why Flipped Classrooms May Improve Learning:
Students can learn at their own pace. Those who struggle to keep up with note-taking during lectures can stop the video, re-read a paragraph or focus more intently on areas they find more difficult. Flipped learning removes some of the pressure students may experience when new content is introduced in the classroom.
A variety of learning styles can be accommodated. Students who learn best from visual material may absorb more information with multi-media homework. More creative students may even become motivated to replicate or enhance some of the things they see.
It can help English language learners. Recorded presentations give ESOL and ELL students access to critical information in multi-media form, which may help them overcome language barriers.
Teachers can spend more time monitoring learning. Flipped learning gives you more instructional time, allowing you to monitor students' understanding of the critical information. You also have more time to make adaptations for students who need extra support, and to give the more proficient students enrichment activities to deepen their knowledge.
It increases the power of group collaboration. You can group students in a way that helps everyone understand the material. Jigsaw, think-pair-share, and debating all provide valuable opportunities for students to share what they learned.
It's not a substitute for teaching
Remember that the assignment you give your students doesn't take the place of teaching. They won't completely understand the material after watching a video or reading a blog post. Your monitoring will likely require you to re-teach some of the content to ensure that everyone learns it effectively.
Online Resources
One extremely valuable (and free) resource is the Khan Academy, backed by the Bill Gates Foundation. Of course, you can use it in your classroom, as well as for homework, but among its range of courses are:
Math: Arithmetic, pre-algebra, algebra, geometry, trigonometry, pre-calculus, calculus, probability and statistics, differential equations, linear algebra, applied math
Science and Economics: Biology, chemistry, physics, cosmology, astronomy, organic chemistry, finance, microeconomics, macroeconomics, healthcare and medicine
Computer Science: Drawing, programming basics, animation, user interaction
Humanities: World history, American civics, art history
Test Prep: SAT math, GMAT, CAHSEE, California Standards Test, competition math, IIT JEE,
Want to learn more about the Khan Academy? View this engaging TED presentation, which includes a Bill Gates cameo.
A few other interesting online resources that could be used for flipped learning: