Evaluation Made Easy, With iObservation
Is evaluation frustrating you? The time, the paper trail, the tension?
What if walkthroughs were faster, more focused?
What if they helped improve teaching and leadership practices?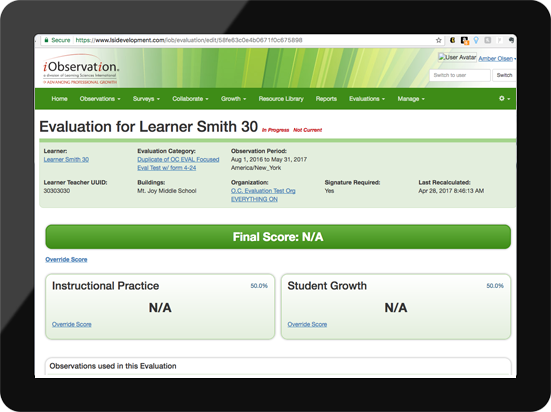 iObservation eliminates the administrative burden of evaluation, so you can focus on what matters most: student achievement. With digitized forms, you'll get through more walkthroughs in a day and provide more specific, helpful feedback that's instantly available.
Easy uploads consolidate classroom artifacts and student evidence with feedback. No more spreadsheets for scoring–just click for reports. With instant feedback and complete transparency, iObservation builds trust in a credible evaluation process.
Best of all, iObservation delivers a powerful resource library and growth planning tools that tap into educator passion and fuel districtwide growth. Teachers select areas for growth, collaborate with peers, and hone their instructional practice.
Free ongoing customer support ensures that live help is always a call or click away
iObservation works with any evaluation model: Marzano, Danielson, your state model, or your custom district model. Choose LSI's exclusive Marzano Focused Teacher Evaluation Model, and evaluation becomes easier than ever with just 23 elements to observe instead of 60. Teacher, non-classroom personnel, school leader, even district leader evaluation can all be streamlined and simplified.
School and district leaders are constantly in classrooms using this tool, and it is transforming the entire culture.
Learn more about iObservation