Dr. Ilene's Journey – Promoting Reflective Teaching in Kuwait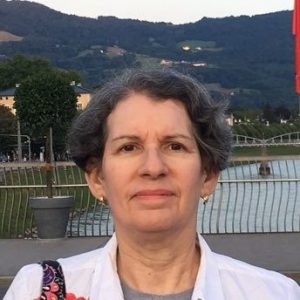 When Dr. Ilene Winokur was young, people often told her she'd make a great teacher. She wasn't quite sure why they said that – perhaps it was her ability to relate to all types of people or her infinite patience – but she respected the teaching profession so deeply that she didn't feel capable of taking on all the responsibilities that educators have to their students, so she set her teaching aspirations aside and studied business instead.
Years later, living in Kuwait with her husband and three children, Winokur found herself again drawn to education. Attracted to the family-friendly work schedule that a school setting offers, she opted to teach third-grade students at an American school and quickly fell in love with everything about education.
Today, as the former founder and managing director of Specialized Solutions – the first and only educational consulting company in Kuwait – she's able to use her passion for teaching, her business background, and Marzano strategies to make a difference in education.
"The Marzano Teacher Evaluation Model was the missing link to effective professional development that I was searching for when I started Specialized Solutions," she says. "I found the model quite by accident after looking at other evaluation models. My doctoral dissertation, completed in May 2013, studied the transfer of training in schools, so I was aware that effective professional development must be tied to a framework that teachers can easily understand, use regularly, and relate to their daily practice."
Using the Model to Teach the Model
Winokur mentors educators and delivers presentations about becoming a reflective teacher using Marzano strategies. And what better way to do so than to use the model to teach the model?
"I often hear myself using Dr. Marzano's common language while I discuss concerns teachers and school leaders have about students who aren't achieving in class," she explains. "Teachers are surprised to hear that using a strategy at the wrong time in a lesson can sometimes be detrimental to a student's progress. Many teachers are unaware of the importance of deliberate practice, but once they are shown how the model can support them with its focus on specific areas for growth, they are motivated to try it."
What Advice Does She Offer?
Teachers tend to be very hard on themselves, Winokur says, so they don't take time to reflect on all of the wonderful things they do each day in their classrooms. "When I was an elementary principal, I frequently reminded my staff to celebrate their successes while they developed their strategies and gained experience."
Winokur has also focused on the importance of celebrating successes in her work as a mentor. "I continue to give this advice when I deliver a presentation or coach teachers, but now I have a more productive way to help them. The Marzano Teacher Evaluation Model allows me to give teachers focused feedback that can be acted on almost immediately. Teachers also understand the teacher and student evidence that is listed for each design question and quickly relate it to what they do every day because it is so practical."
Winokur loves to stay up-to-date on research and new developments in education. Another thing that keeps her drawn to the Marzano model is the fact that it has been, and continues to be, studied extensively. "I am impressed by the efforts of Learning Sciences Marzano Center's staff to improve the model by making it as practical as possible without sacrificing quality and fidelity," she says, adding that, as a result, "students will achieve more as their teachers grow."
Recently, Winokur wrote an article for an international education journal, focusing on Kuwait and the knowledge economy. In it, she described the current state of education in Kuwait, along with the steps all stakeholders are taking to prepare students for a world that will need critical thinkers and problem-solvers.
"Although there are many barriers to change in Kuwait's schools, private and public," she says, "I am very hopeful about the future of education in Kuwait, and I believe the Marzano Teacher Evaluation Model can play an important role in a successful outcome."
Evaluation Should Promote Growth
A problem Winokur has encountered in Kuwaiti schools is that evaluation models are often used to make decisions about hiring and merit pay, rather than as a tool for professional growth. With evaluations widely serving as measurement tools for human resources professionals, teachers have become increasingly suspicious of – and uncomfortable with – the evaluation process.
However, she adds, "The Marzano model makes sense to them and they quickly make the connection to how it can positively affect their daily practice. I am very excited to have partnered with the Marzano Center to bring the model to Kuwait and the region. I believe it will be a catalyst for positive change in schools."
Reflective Teacher Presentation
In recent months, Winokur has presented a variety of workshops about becoming a reflective teacher. Using the model to teach the model, she has encouraged participants to discuss Marzano strategies while viewing videos of teachers at work in their classrooms.
"Discussions were lively," she recalls, especially when she asked them to rate the teachers in the videos on the performance scale. However, this exercise turned out to be an extremely enlightening experience.
"Each time, the ratings varied, so I told the participants that we needed to have IRR (inter-rater reliability), which meant all of us agreeing on one rating. There were so many 'aha' moments as the teachers discussed why they rated the teacher a certain way. We focused on the evidence and then determined what rating the teacher should receive and why. The simplicity of the scale, along with attention to the evidence, was so convincing that you could visibly see the acceptance of the correct rating on the teachers' faces."
Although continuing professional development is essential to improving classroom practice, it isn't enough as a stand-alone solution, according to Winokur. It must be tied to a framework that offers clear measurement, in the form of scales, connected to goals – and it all must make sense to teachers.
"The Marzano Teacher Evaluation Model provides the targeted goals and focused feedback that motivate teachers to reflect and then make the necessary adjustments to their use of strategies," she explains. "School districts can use the model to guide teachers' professional growth, while supporting them with the resources necessary for their development."
Unwavering Support is Essential
One of the most important things teachers should do, Winokur firmly believes, is to provide unwavering support while encouraging students to accept ownership of their own learning. This can be challenging at times, but she knows it's worth the effort.
"When I was teaching, I made a point to tell students if they tried, I would work hard for them to succeed. I think it is also important to be sure students know you care about how they do, even when it seems that they don't care."